Mr. Thai Thanh Quy – Alternate Member of Party Central Committee, Deputy Secretary of Provincial Party Committee cum Chairman of Provincial People's Committee gave an interview to Nghe An Newspaper about Nghe An's investment promoting conference in Spring 2019.
Reporter: Dear Mr. Chairman of Provincial People's Committee, promoting, attracting investment is a crucial part in the province's socio-economic development. One of the objectives of the annual meetings with investors is to accelerate investment promoting and attracting activities. Nghe An has also made attentive preparation for this conference. Could you please let us know that in comparison with previous meetings, what are new features of this year's one? And what does our province expect from this year's meeting?
Mr. Thai Thanh Quy: Investment attraction has been a leading political task for many years, being paid great attention and focused by leaders of Nghe An's Provincial Party Committee and Provincial People's Committee. We are aware that in order to develop the economy fast and sustainably, the investment environment must be strongly improved to attract domestic and international investment. Over the past years, Nghe An has always focused on implementing various synchronous solutions to accelerate promoting, attracting investment activities, among which the annual meeting with investors is considered a special event and has become an investment festival in Nghe An.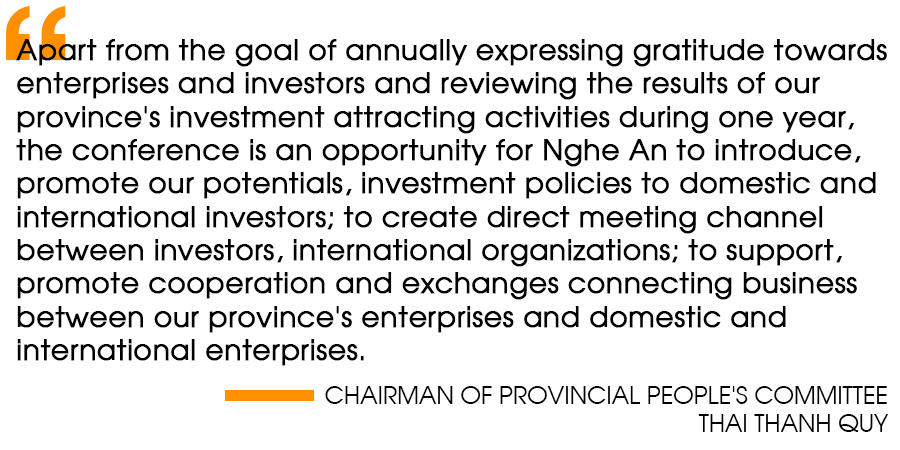 Continuing the success of 10 years of organizing the event, it's the 11th year Nghe An has held Meeting with investors in Spring. For the first time, the conference takes place in Cua Lo, a very beautiful and friendly beach tourism town in Nghe An and the North Central region. Particularly, it is expected that this is the 3rd consecutive year Nghe An has the honor to welcome the Prime Minister to attend this important annual event.
With more than 700 domestic and international guests, the conference recognizes a large number of enterprises including foreign investors, partners of investors in infrastructure of economic zones, industrial parks and numerous investors, corporations within the country to attend. Apart from the official event, this year's conference also has a lot of sideline events that receive great attention and direction to implement such as: Workshop "Building Nam Dan District, Nghe An Province to become a model of new rural development in the direction of cultural development associating with tourism during 2018-2025 period" held by Ministry of Agriculture and Rural Development, Nghe An Provincial People's Committee in Nam Dan; honoring enterprises, investors whose projects were completed in 2018 and are started in 2019; organizing inauguration ceremonies for 2 key projects of the province (Nui Tien juice and pure water factory in Nghia Dan District, DKC Petroleum Depot in Dong Nam Economic Zone); reopening Vinh-Bangkok flight; opening Vinh-HCMC flight by Bamboo Airways; the signing ceremony of comprehensive cooperation between Nghe An and Vietinbank…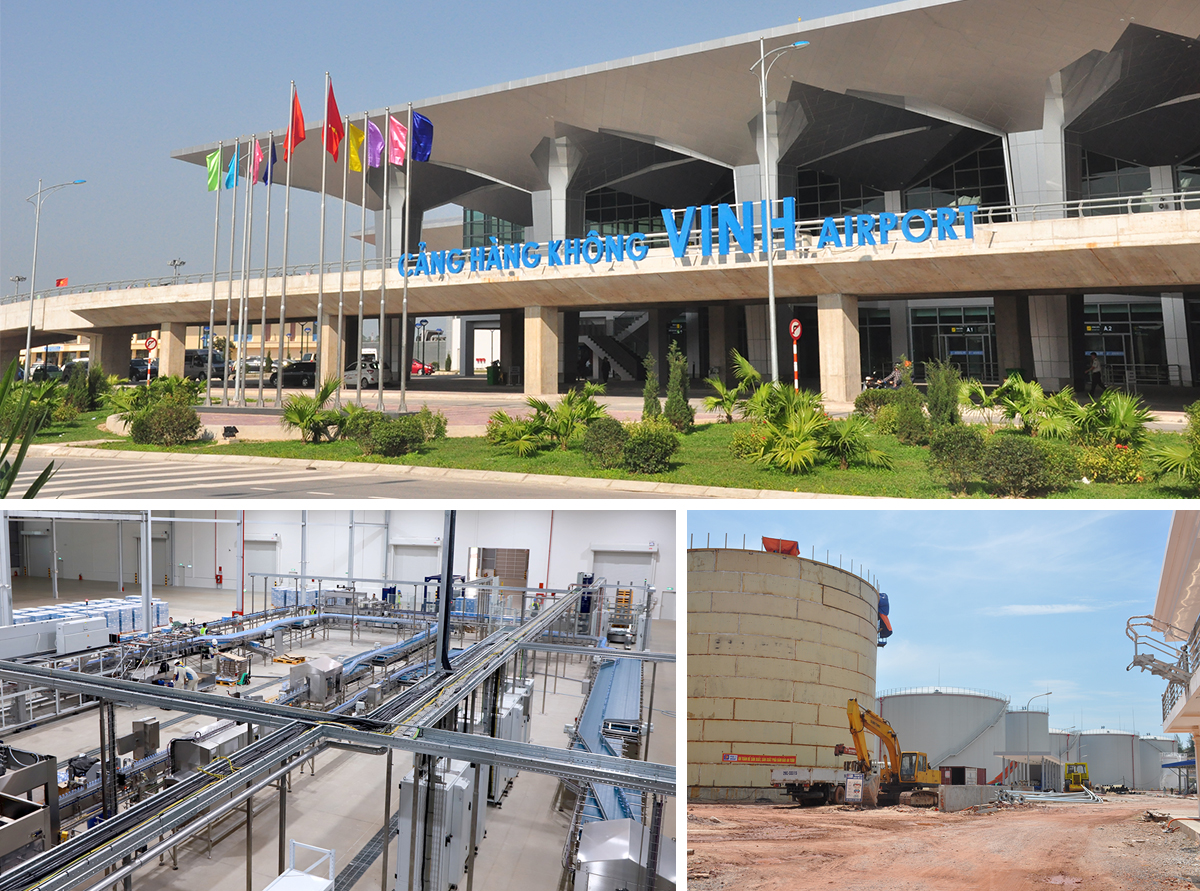 It can be said that with the results of attracting investment in the past 10 years that Nghe An has achieved, especially after 5 years of implementing Resolution No.26 by the Politburo about directions, tasks to develop Nghe An towards 2020, we expect the conference shall open a new cycle, create a new wave of investment into Nghe An in accordance with the provincial investment orientation, particularly the investment wave from foreign investors, large domestic economic corporations into the province's available industrial parks; hope that there shall be more leading enterprises and motivating projects to invest in Nghe An.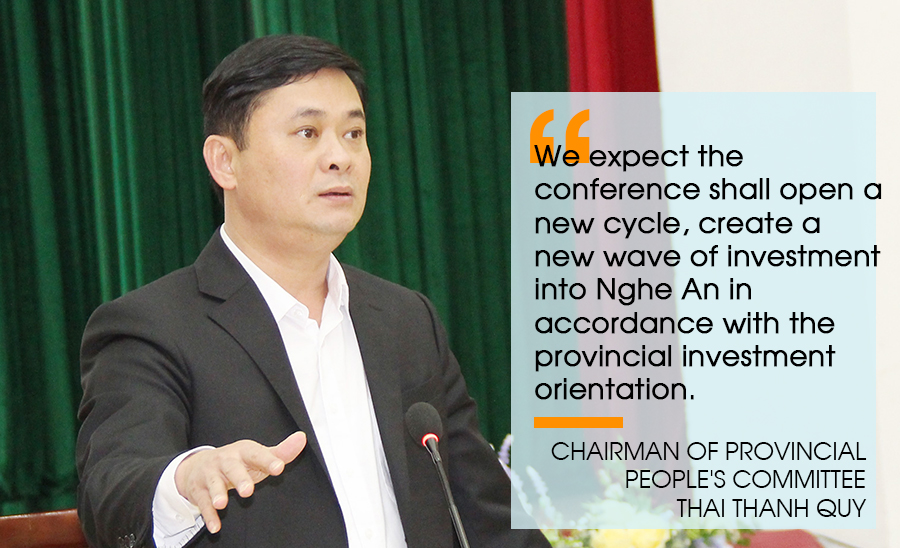 Through the conference this time, Nghe An wishes to continue to receive greater attention from the Government, the Prime Minister and the Central departments, ministries, sectors, domestic and international investors with the aim to help Nghe An to speed up and become a better province of the country in comply with the goals set by Resolution No.26 by the Politburo.
Reporter: From your viewpoint, apart from advantages, what are the difficulties, obstacles in Nghe An's investment attraction that we need to overcome?
Mr. Thai Thanh Quy: With the province's efforts, investment attracting projects in the past time have contributed to the restructuring of the economy, created jobs and increased budget revenues, significantly changed the province's appearance, advanced life quality as well as people's income.
However, beside many potentials, advantages and the results that have been achieved, Nghe An has also encountered difficulties, obstacles in investment attraction such as: the province has a low starting point; is not close to large economic centers geographically; the Provincial Competitiveness Index (PCI) of Nghe An has improved greatly in the past years but has not reached the top rankings of the country (ranks 21th out of 63 provinces and cities); administrative reforms have had many changes but have not met the requirements and expectation; there have large human resources but limited numbers of skilled and disciplined workers… Those are the points that the province has directed drastically to improve so as to boost attractiveness towards investors when they come to Nghe An.
Reporter: Could you please let us know that after this conference, what are orientation, tasks and solutions that the province has to make the investment in Nghe An the most effective?
Mr. Thai Thanh Quy: The core issue for the investment in Nghe An to gain the highest efficiency is still to build up trust for investors; attracting investors to the province is hard, keeping them to expand investment and create effects of attracting other enterprises to continue investing is even harder.
Thus accompanying, sharing and removing difficulties for the investors, from administrative procedures, mechanism, policies, land clearance, security and order, transportation, human resources have great importance, need our concentration to direct in order for the projects to be implemented smoothly and effectively, which in turns build trust for enterprises. When the investment of the enterprises goes well, the confidence of investors in the authorities increases constantly spreads to attract investment more effectively.
With that viewpoint and motto, Nghe An has continued to improve business and investment environment more strongly, accelerated administrative reforms, concentrated on building infrastructure, developing human resources, advancing the effectiveness of investment promotion. Among them, improving investment, business environment, advancing competitiveness, supporting and developing enterprises are the key and thorough task. Nghe An identifies 2019 as the central year to implement administrative reforms in all fields by implementing many synchronous solutions such as: establishing a public administrative center; restructuring and reorganizing the provincial Investment Promotion and Support Center; building and deploying electronic connecting system; since February the electronic information portal supporting enterprises in the province has been put into operation to create utilities to support businesses; continuing to replicate the administrative reform model at state administrative agencies; conducting surveys, collecting opinions of people and enterprises on administrative reforms at departments, branches and localities; organizing dialogues with enterprises, briefings with business associations to resolve petitions of enterprises and investors, issuing plans to assign leaders to handle procedures and documents for investors immediately when the conference ends…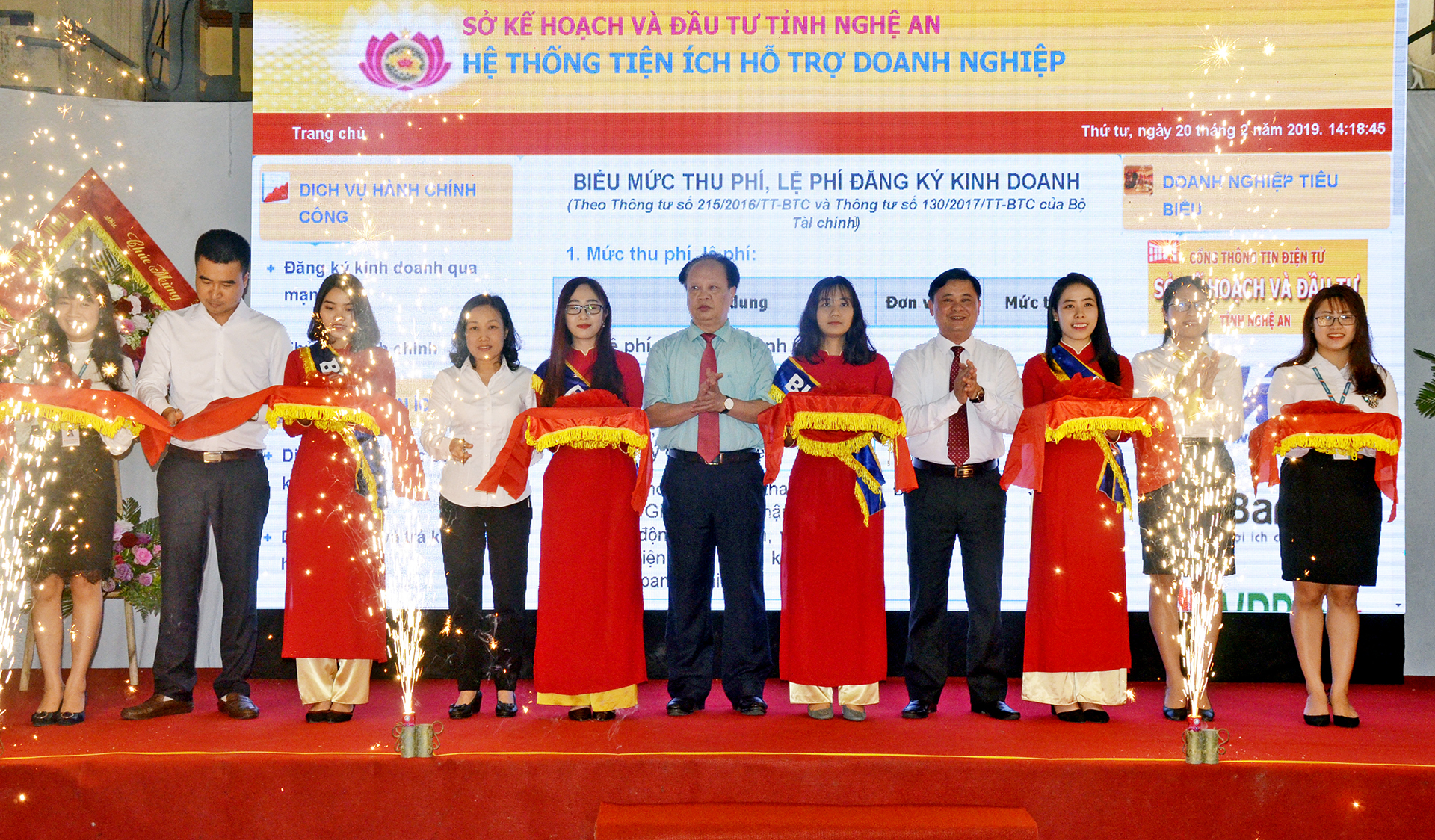 Moreover, Nghe An shall pay attention to flexibly apply the Central's policies in the direction of benefiting enterprises and in accordance with the law; support, create all favorable conditions for investors to complete the procedures as soon as possible to implement the project in the fastest way.
Thoroughly grasping the Government's motto in 2019: "Discipline, integrity, action, creativity, breakthrough, efficiency", along with the determination of the whole political system in synchronous implementation many breakthrough solutions, we believe and hope that Nghe An will continue to build great trust, become a really attractive destination in investment, production, business, start-up for domestic and international enterprises in the coming time.
Reporter: Thank you very much!